What an interesting game last night. From watching wide-open touchdowns being dropped, Golladay yelling at Daniel Jones on the sideline in the 4th quarter, and that missed field goal which ultimately gave them a second chance at a win.
Here is what I took from this game.
Taylor Heinicke is a solid backup QB who can win some games
Heinicke played a great game. Yes he's young, yes he has a lot to work on, yes he made some mistakes, but for starting only his second regular-season game of his career, he played great. He threw 34-46 with 336 passing yards, two TDs, and one interception.
🗣 YOU
🗣 GOT
🗣 MOSSED pic.twitter.com/k4zLSE0eFW

— Washington Football Team (@WashingtonNFL) September 17, 2021
Yes, this was an unbelievable catch, but seeing his confidence to even try to make that throw late in the game like that is an elite-caliber move. Even his coach Ron Rivera mentioned it. "He does have the ability to throw the ball and make all the throws. We've seen that," Coach Rivera said. "And he's got a lot of confidence."For a guy who was playing in the XFL not long ago, he's a solid NFL Quarterback.
The Giants blew the game
I thought Daniel Jones played pretty good actually. He threw for 249 yards and a touchdown against Washington, whose defense wasn't what we expected it to be. Saquon didn't get as much work tonight, as expected being listed questionable for the game in the first place. He got thirteen touches and ran for 57 yards in the game. The Giants just need to get his toes went again and get him used to high-pressure situations before he can really excel. There were way too many missed chances by the Giants, who just kept shooting themselves in the foot. Darius Slayton dropped this ball in the endzone.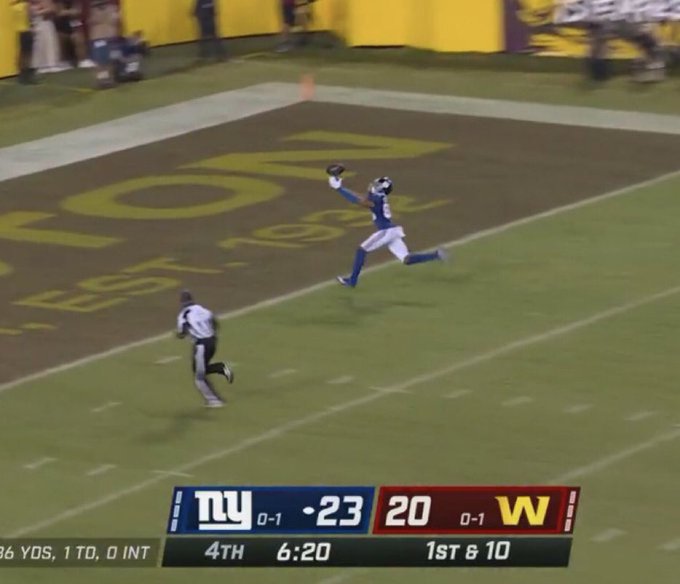 I get it that could be a tough play, but if it hits your hands, that's on you. Jones did his job here and made the play on his part. Washington's defense completely collapsed on this play, and the giants couldn't take advantage of it.
The offside call after the missed field goal was tough. Washington Football Team's Kicker Dustin Hopkins got his second chance and walks it off against their NFC East foe last night. It's an ultimate representation that Football is just as much of a mental game as it is physical. That is gonna be a hard pill for this team to swallow.
"It's a pretty tough one. You give it your all and fight and it comes down the tail end," Giants receiver Sterling Shepard said. "See that first one miss and you see those flags it's not a fun feeling at all."
If Daniel Jones doesn't get some help from his big boys up front, he's is going to be running around to save his life all year long.
Recap
In a game that on paper, did not seem exciting, it was a great game with some thrilling plays. Washington caught a lucky break on this one, relying on the Giants to make mistakes. Taylor Heinicke did enough to earn the win, and he proved that he should be the guy until Ryan Fitzpatrick returns.