What a fun game tonight. Wrigley Field was absolutely electric for a Tuesday night in April.
I've watched postseason baseball games less electric than Wrigley Field is tonight on a Tuesday in April. Baseball is just way better at Wrigley Field.

— OBVIOUS SHIRTS® (@obvious_shirts) April 12, 2023
Obviously, the talk of the game is the Nelson Velázquez grand slam. His first career grand salami was a moon shot that gave the Cubs the lead 8-7 lead after being down at 7-0 at one point.
First career grand slam for Nelson Velázquez! 💪 pic.twitter.com/qOJ5IDCoUr

— Chicago Cubs (@Cubs) April 12, 2023
From there the Cubs just kept running. Scored 8 runs in the third inning, and if you manage that, you better not blow it. They did well with adding some insurance in the later innings of the game.
On the negative side, Hayden Wesneski just didn't have it tonight. The command and control just weren't there. Gotta be better than that. He pitched 1 1/3 inning, allowed 6 runs, walks 4 guys, and doesn't strike out a batter. You hate to see this for a young pitcher, but you just have to think there's something that needs to be fixed. He has shown us that he is filthy, but the command in both starts now has been an issue and it needs to get fixed before it's too late for him.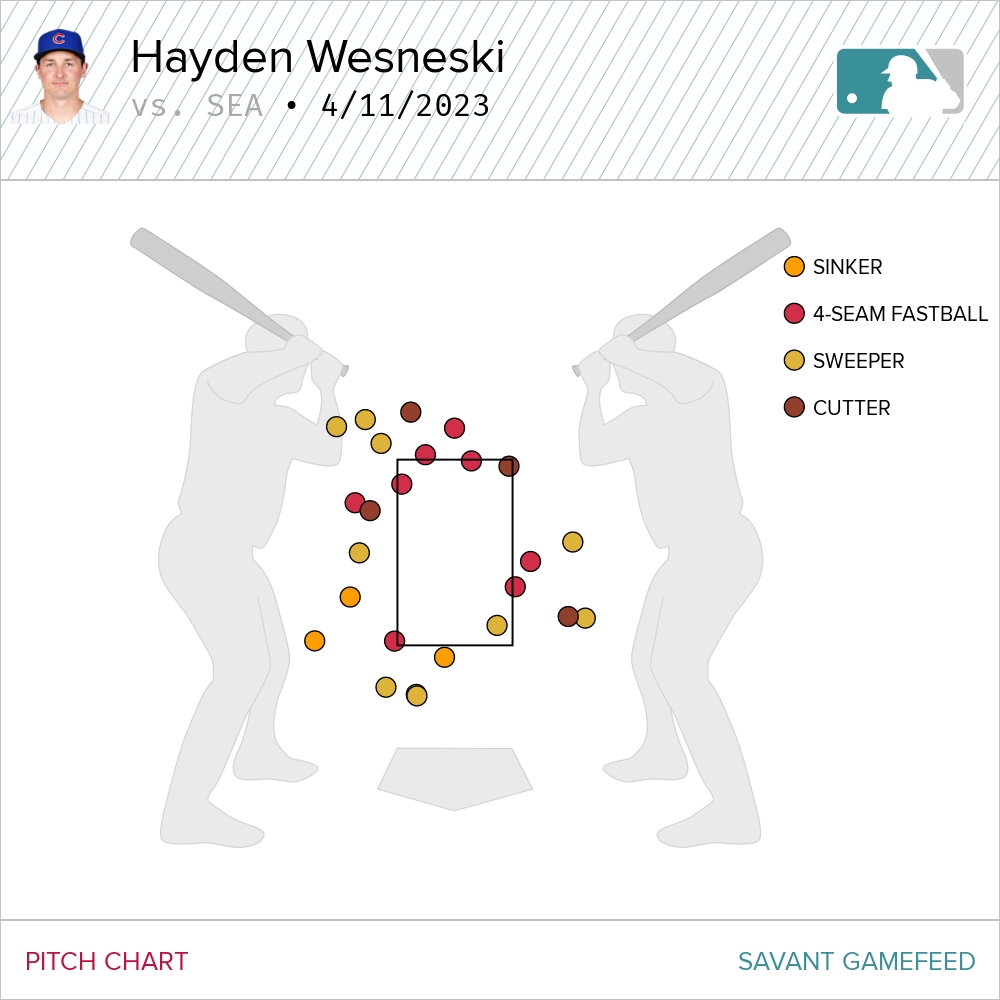 Trey Mancini hit his first home run as a Cubbie as he sends one 419 feet into the bleachers, he also drove in a good insurance run with an RBI single in the 5th inning. I love Mancini and his story and it's been fun watching him on the team so far.
Nico Also had a big game at the plate with two hits driving in two runs on the day, dude is just electric. Nelson Velázuez had a 3-hit game and had 4 RBIs on the day, good production from Nelson tonight.
Dansby Swanson left the game with what they are saying is "lower left side tightness", you gotta hope it's just something small, but he had a hell of a game tonight going 4-4 at the plate with 2 runs driven in. He's a hell of a ball player. Swanson has been productive as hell so far this season and it seems like the guys have really rallied around him. Put the C on his chest already.
Hell of a game. This is one of those games we will look back on at the end of the year and remember as one of the fun ones this season. This team doesn't quit and I love it. The bullpen absolutely shoved pitching 7.2 innings of baseball and only allowed 2 runs, love that from the pen. It was an electric win, let's get the sweep tomorrow.
Cubs win 14-9.
Player of the game: Nelson Velázquez